Reimagining Meetings
Do you grapple with the world of meetings? Meetings are an integral part of the corporate landscape, yet often they yield frustration and inefficient use of time. The list of challenges is long: inadequate time management, lack of preparation, communication issues, and dwindling attention span throughout the workday. The outcome? Meetings that fail to reach their full potential, squandering valuable resources. Let us introduce you to our solution for enhanced meetings.
The solution: Lamp+
Harnessing high-tech, Lamp+ re-centers the focus on human interactions. Redefining business meetings, Lamp+ presents a transparent touchpad for intuitive engagement, swift integration of content, and a professional meeting coach – all encapsulated within a single, suspended device in the room. In an era where modern technology should never hinder human discourse, particularly in business meetings and sales scenarios, Lamp+ takes on the mission of intertwining digital and physical worlds. This orchestrated ecosystem of connected objects is tailored to foster meaningful face-to-face interactions. encourages.
MonteRosaOS, the plus of Lamp
quipped with MonteRosaOS and the pioneering MeetingWizard, Lamp+ provides targeted solutions for efficient and purposeful discussions. The MeetingWizard serves as an ally across every phase of meetings, facilitating optimal use of meeting time and recording achieved outcomes.
The timer function keeps meetings on schedule, while the feedback feature enhances team efficiency. The evaluation system nurtures a positive meeting culture. Crucial points and decisions can be recorded directly and preserved at the meeting's end. This symphony of features collaborates harmoniously to elevate meetings to new levels of productivity and efficacy.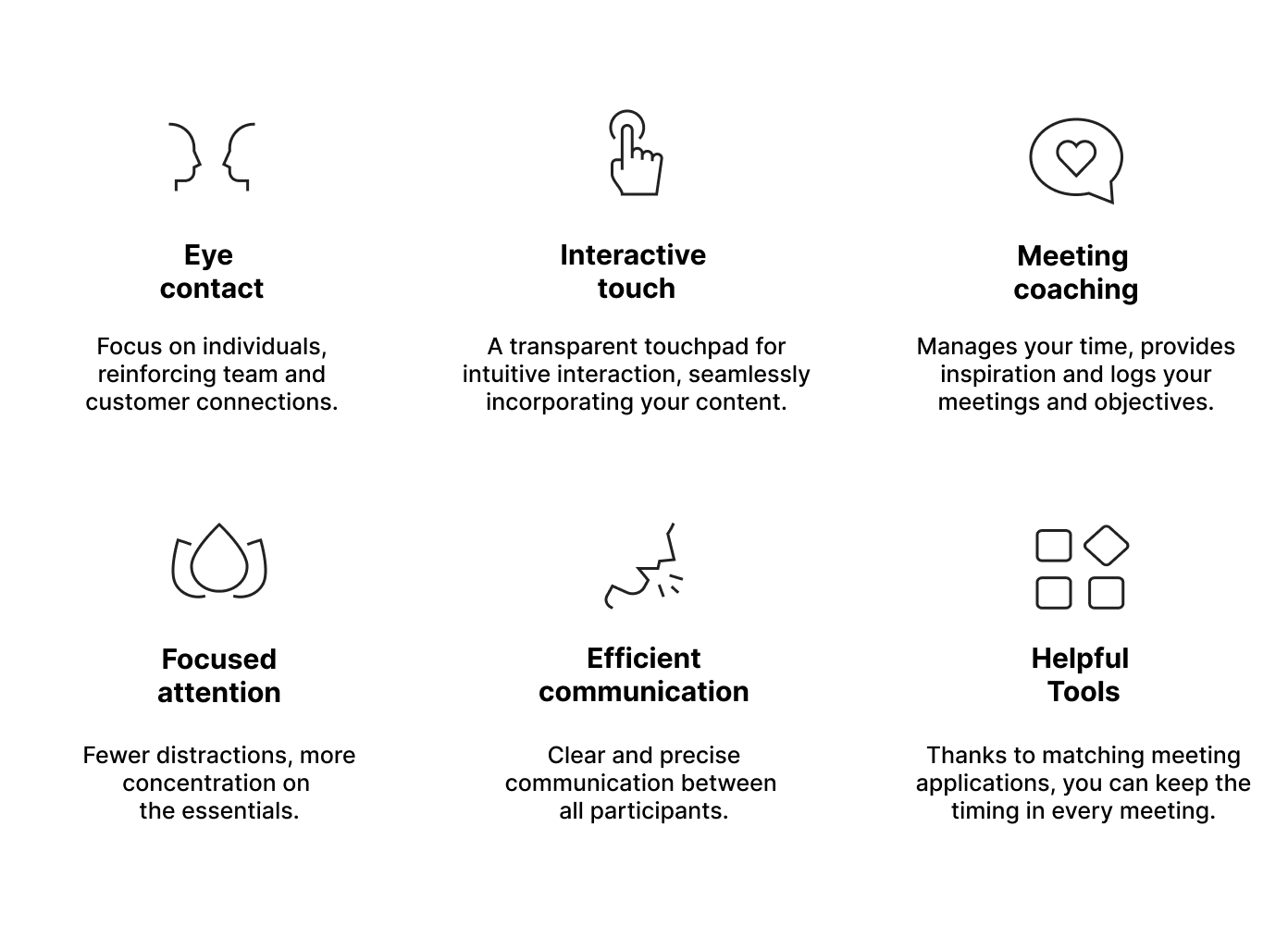 A Novel Perspective on Interaction
In an epoch dominated by virtual communication, Lamp+ serves as a reminder of the potency of personal interactions. This unique connection ignites creative sparks and facilitates spontaneous exchanges – aspects that often wane in the virtual realm.
Research from MIT's Human Dynamics Lab underscores that the most valuable communication occurs during in-person encounters. Teams that physically engage achieve 35% better results. The rationale lies in the plethora of nonverbal cues present in face-to-face meetings: body language, facial expressions, and seating arrangements offer vital insights into communication.
Make the meetings count
While technology is frequently perceived as a barrier to interpersonal interactions, Lamp+ is a testament that innovation and human connection can seamlessly coexist. ABUSIZZ has set out to optimize and refine meetings, conserving precious time and resources. Through a blend of cutting-edge technology and human interaction, Lamp+ ushers in a new era of meeting culture, where each interaction truly counts.